A Day in the Cyprus Hills with Snake George & the Dragons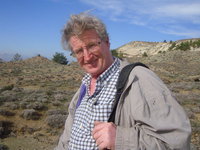 A Day in the Cyprus Hills with Snake George & the Dragons
By Andy Ryder, Avon Reptile & Amphibian Group
Snake George (Hans-Jörg Wiedl) is well known in Cyprus and across Europe as an expert in the reptiles and amphibians of Cyprus.  George was born in Innsbruck, Austria and worked as a Ranger in his homeland and internationally as a UN Peacekeeper before settling in Cyprus in 1986, quickly falling in love with the island and her herpetofauna; and has since worked tirelessly to protect the reptiles of the island and their habitats. Snake George spends his days rescuing terrified snakes from terrified people; attempting to explain the various benefits of a healthy rat-eating herpetofauna to the latter.
As I was visiting Cyprus for a wedding, I decided to make contact with George and spend the day with him.  I met up with him in Paphos & we set off for the picturesque village of Kathikas, where George was delivering a follow-up talk to interested expats, tourists and a few Cypriots at the village hall. 
George spoke passionately about the problems facing the snakes of Cyprus, and in particular for this meeting, the Large Whip Snake (Coluber jugularis).  Cypriots are generally aware that any large black snake is not dangerous and can help control the rat population; but unfortunately for the Large Whip Snake, they are greenish brown for the first 2 years of their lives.  This colouration provides better camouflage from birds and mammals but sadly it also means that the local human population can sometimes mistake these immature snakes for one of the other 7 species found in Cyprus and kill it. 
George talks to the interested public at Kathikas village hall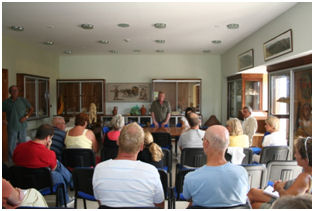 One of the side effects of this unnecessary decimation of the non-venomous snakes of Cyprus is the increase in sightings of the highly venomous Blunt-nosed viper (Macrovipera lebetina lebetina) upon which Large Whip Snakes feed.  Vipers forced out of their natural habitat by competing land uses seek refuge in areas less suitable for venomous snakes; low-lying plants surrounding swimming pools, in orchards, vineyards and other areas attracting rats.  The snakes soon follow. By killing snakes the natural balance is upset, and rat populations increase; leading to large imports of rat poison.  Rather than the targeted consumption of rats by vipers and whip snakes the local population are increasingly relying on less targeted poison, which can harm or kill plants, animals or even young children.  George always removes Blunt-nosed vipers from residential areas for relocation, but when the owners agree and locations are suitable he prefers to leave harmless species where they are.
After George's well-delivered speech we decided to head into the hills to find some native reptiles. After a couple of hours in the field we had found 9 different species and a few interesting invertebrates.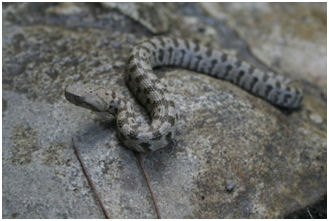 Blunt-nosed viper
George then took me to a favourite coastal restaurant.  Replenished by a hearty serving of Beef Stifado we decided to try another area in the hope of finding the Spiny-footed lizard hiding under stones on the dune fringes.  Whilst there was lots of evidence of the lizards activities including burrows, tracks and shed fragments of skin, we had left things a little too late in the day and regrettably we found no lizards.  George suggested that next time they would not elude us and then, still deep in conversation, he dropped me back at Paphos airport for my return flight home.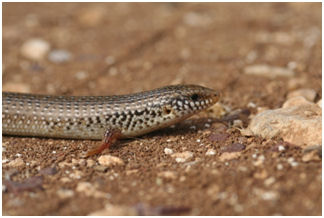 Oscillated Skink
Spending the day with George was fascinating and illuminating.  Amongst the many challenges facing George and the snakes of Cyprus, one issue takes precedence.  The plight of the endemic Cypriot Grass Snake (Natrix natrix cypriaca) has been a constant concern since George rediscovered it on Cyprus in 1992 (prior to which it had long been considered to be extinct), as there are indications that it is not being afforded the protection required of such a species.  George and the Cyprus Reptile Society are currently in the process of taking the Cypriot government to the EU courts for their failure to protect the critically endangered subspecies.