On Line Petition Presented to Cyprus Minister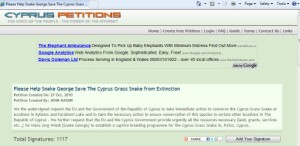 Snake George has presented the Petition to the Cyprus Government .
With over 1,400 signatures from supporters in Cyprus, Europe and Worldwide it should be listened to and action urgently taken to safeguard The Cyprus Grass Snake in its broken habitats on the island.
Please read the Article in the Cyprus Mail below plus Comments.
http://www.cypruspetitions.com/petition_details.php?petition_id=25
No related posts.
Related posts brought to you by Yet Another Related Posts Plugin.