Snake George's Plans for 2011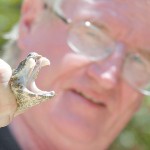 The Cyprus Reptile Society
Dear Friends and Members
After searching for 3 years for land to build a new Reptile Park, and also a Breeding Centre for the Cyprus Grass Snake, unfortunately we have had no success, and no help from the Cyprus Government.
For that reason I will be leaving Cyprus in mid January for Austria, where I have had a good offer from the Austrian Government to do observation and research on amphibians and reptiles.
It will be at a place where I grew up and where I know I will be made welcome and I am sure the people will appreciate what I am doing. While I am there I will also write a book.
I will stay for about nine months until the first snowfall at the end of September or beginning on October.
In case the Cyprus Government will contact me to include me in the breeding program of the Cyprus Grass Snake I will come back in Cyprus.
In one year I receive about 150 emails and about 300 telephone calls from people who want me to help them. Since the closure of my park in Peyia two years ago, I still receive several calls and emails every day from people who want to visit the park.
The Cyprus Government do not realize what I have done and how much help I have given them in the last fourteen years.
I feel very disappointed looking back at all the experiences, and especially about the Cyprus Grass Snake, which I believe we have already lost in the wild.
I am sure I will enjoy and find happiness again with my new job in Austria.
We will keep in touch and you will find updates on our website www.rochfordessex.net/cyprusreptiles
There is a project we have in mind in Cyprus and if this is successful I am sure you will be very pleased. We will still carry on with the Cyprus Reptile Society.
Best Regards
Snake George
Paphos, Cyprus
December 2010