Snakes in Cyprus
 George is writing a replacement for this temporary page which will be published as soon as it available (10/2010)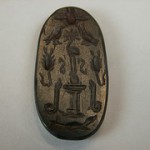 With drought and thousands of acres of agricultural land being developed into housing estates, snakes are becoming a more common sight in our gardens and in urban areas of Cyprus.
The snakes seek food, water and shelter from the burning sun anywhere they can find it, and that could even be behind your plant pot.
The snakes, most of which are harmless to humans, favour houses with green lawns and swimming pools.
They spend much of their time hunting for lizards and rodents.
In Cyprus there are eight species, with only one species being considered really dangerous.
TO SEE SOME PHOTOS CLICK HERE
(1) CAT SNAKE
A slender-necked and broad-headed snake with a total length up to 70-80cm. It prefers stony areas, sunny rocky slopes, sandy places with bushy plant cover adjacent to roads and ruins and feeds on lizards and small mammals. You can often see it foraging at dawn and dusk, killing its prey with venom, then swallowing. It has fangs at back of upper jaw and is not dangerous to man.
(2) THE MONTPELLIER SNAKE
One of the largest and probably the commonest snake in the Mediterranean region. It is seen as a threat to small game species and farm birds because of it size.
(3) THE CYPRUS WHIP SNAKE
The Whip Snake's natural habitats are temperate forests, temperate shrubland, Mediterranean-type shrubby vegetation, arable land, pastureland, plantations, rural gardens, and urban areas. Not dangerous to humans.
(4) THE GRASS SNAKE
Typically dark green or brown in colour with a characteristic yellow collar behind the head, which explains the alternative name ringed snake. The colour may also range from grey to black. The underside is lighter in colour and it is harmless to humans.
(5) LARGE WHIP SNAKE
Not dangerous to humans and will eat a diet made up of rats, mice, birds and lizards. A large Whip Snake measuring three metres was spotted in Paphos several years ago.
(6) THE COIN SNAKE
A harmless pale brown snake with dark brown diamond-shaped markings along its back.
(7) TYPHLOS VERMICLARIS
Also known as the "pink worm snake", is harmless and not so common.
(8) THE BLUNT NOSED VIPER!
The "Vipera Lebetina" is a dangerous highly poisonous viper. It is a fat snake, varying in colour with a yellow and horn-like tail-end. It inhabits terrain with boulders and bushes and hillsides beside streams.
It attacks only in defence. If it is disturbed, it hisses loudly and may attack very rapidly.
It is particularly dangerous because when it bites, its teeth remain embedded in the tissue and the movements of the jaw pump large amounts of poison into the wound.
For those worried about the increase in snakes, fear not. In Cyprus, you are 1,000 times more likely to die in a road accident than from a snake bite and worldwide more people die from bee stings.