Welcome
Welcome to the "Cyprus Reptiles" web site.
Snake George (Hans-Jorg Wiedl) re-discovered the Cyprus Grass Snake after it had been thought extinct for nearly 40 years. Secondly he proved that the most venomous snake on Cyprus, the Blunt Nose Viper lays eggs, other than bearing live young as it had been thought and apparently proven.
George has been working hard to win the right from the Cyprus Government to establish a conservation and breeding project to save the Cyprus Grass Snake from extinction.  
But it was announced in December 2010 by the Cyprus Government that the that the Captive Breeding Project under the EU LIFE Project, which includes the Cyprus Grass Snake, has been awarded by the Cyprus Government to a University located in Greece.
George has publicly announced that he is now leaving Cyprus (January, 2011) to work for almost a year in Austria instead.
But the current campaigning continues……………..
The European Commission (EU) says that it is taking legal action against the Republic of Cyprus in respect of the environmental endangerments at Paralimni Lakes.  The Government "clean up" has started (10/2010) but George has great concerns about how this has been undertaken.
The "Cyprus Reptiles" web site (copyright) is privately owned by George's friend and associate herpetologist, John Mason.  John is the Editor and he is has been campaigning and publishing articles in conjunction with George and Linda Crossley.
So John, aka "Cyprus Reptiles", decided in October 2010, with George's agreement, to raise this matter with the EU Parliament and campaign widely to support the aims of the Cyprus Reptile Society which has yet to be formally legalised (but it will shortly in the form of a company limited by guarantee.)
The Cyprus Reptile web site is currently run independently of The Cyprus Reptile Society although Members are advised of all News at its meetings in Paphos and earlier for those on email from this site.
If you support Snake George in his quest to save The Cyprus Grass Snake and re-create his Cyprus Reptile Park elsewhere , which closed in 2009,  please also Register on this site to leave your email address so that he can contact you when he returns to Cyprus.
Bookmark this page to come back for new exciting developments or Register to be advised of Breaking News.
George has also co-authored a new book.  It can be obtained here.
900 copies of this book have been sold as at 12/2010 and will be out of print until 2012.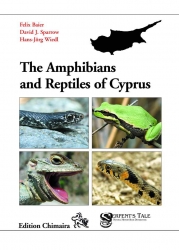 No related posts.
Related posts brought to you by Yet Another Related Posts Plugin.